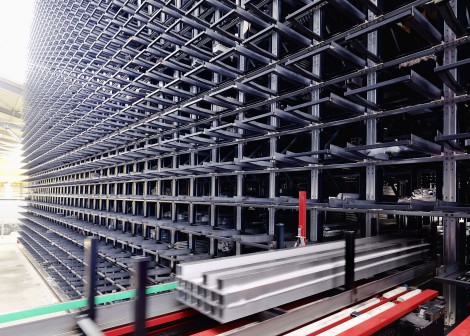 40 meters long, 21 meters high and 25 meters wide: With its new high-bay warehouse in Birsfelden, Debrunner Acifer AG has expanded its storage capacities by 9,000 tons of steel. The integration of a new preprocessing facility allows Debrunner to offer precision steel processing along with efficient distribution – for just-in-time deliveries.
Debrunner Acifer AG recently put its new high-bay warehouse in Birsfelden into operation. Built as a rack-supported structure with a length of 40 meters, a height of 21 meters and a width of 25 meters, the warehouse has room for 3,000 cassettes in which mainly products of up to six-and-a-half meters in length are stored. With a maximum capacity of three tons per cassette, a total of up to 9,000 tons can be accommodated in a narrow space.
The handling of orders is coupled with the company's merchandise management system. Thanks to short distances between the high-bay warehouse and the preprocessing facility and to modern order-picking and sawing systems, waiting times are eliminated and the material can be delivered to the customer more quickly. Five output points with directly adjacent packaging and sawing stations likewise make for short processing time and perfect protection for further transport.