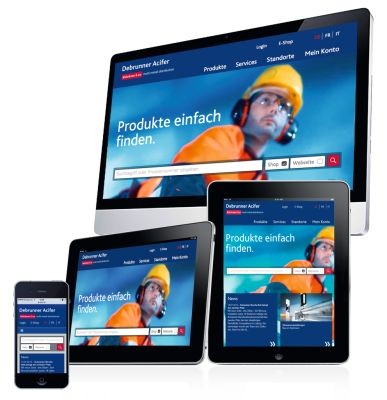 Website redesign with integrated online shop The Debrunner Koenig Group, which is active throughout Switzerland, has launched its new user-friendly website with integrated online shop. The new design provides the Group with a contemporary and visually compelling online presence. The Debrunner Koenig Group comprises the Debrunner Acifer companies, Koenig Feinstahl AG, Metall Service Menziken and Debrunner Koenig Management AG.
The new Debrunner Acifer online shop with over 160,000 products offers features to meet individual customer needs. The powerful product search function with facet filters is a key feature of the website. The new search function is also used for the products and services of Metall Service Menziken und Koenig Feinstahl. With its structured quick navigation and responsive design, the content is adapted to the user's device. This means that the website can also be used on tablets and smartphones.
The new technologies implemented on the site enable the efficient and versatile publication of specific content – across all online and print channels. You will find the new business platform at:
www.dkh.ch , www.dkg.ch , www.d-a.ch , www.koenig.ch , www.metallservice.ch .
Media contact

Armin Lutz
Debrunner Koenig AG
9004 St. Gallen, Switzerland
+41 (0)58 235 01 01 / alutz@dkg.ch